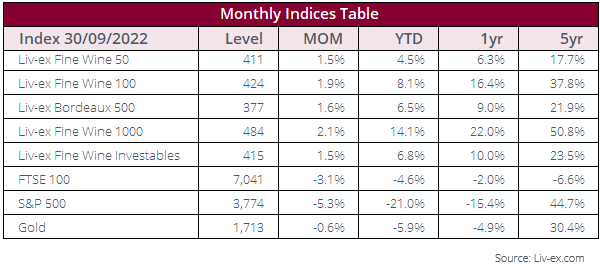 After a relatively quiet August compared to the month of July, which experienced considerable ferment and the price hike for example of Champagne, in September the Fine Wine market is once again solid and stable.
The key to continued success is certainly the persistent weakening of the Pound which, as already examined in previous reports, favours the Euro and more the Dollar, increasing the purchasing power of these two currencies. The reference of the wine prices is the Pound and the merchants in the last month of September took the opportunity to keep the Champagne 50 the record of the best performances for the fourth consecutive month with an increase in value of 3.2% compared to August. Already in the first week of October it accounted for 20.3% of total trades.
The Fine Wine 50 index which, as shown in the table, performed only 1.5% in September, actually did an excellent job against the FTSE 100 (-3.1%), the S&P 500 (- 5.3%) and gold (-0.6%) which closed in a decidedly bearish climate this month; complicit in these negative signs, including the increase in energy costs and the increase in interest rates of central banks.
On the other hand, the increase recorded for the Liv-ex Fine Wine 1000 index (2.1%) is not a modest one: by encompassing all 7 sub-indices (in September all with a positive sign!), It consequently had the best increase of all categories.
Bordeaux Legend 40 grew by 3.1% in September, a record for its annual performance.
Piedmont and Tuscany also improve, gaining respectively 3% and 6% of the share of trade but do even better in the first week of October, reaching 6.9%.